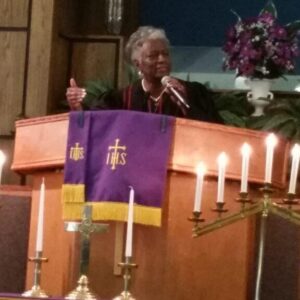 Rev. Lonzie Symonette BCC APC
"God can—but we do not always know how—because God can—in so many different ways." L.S.
Chaplain Lonzie Symonette, Associate Minister Payne Chapel AMEC, Colorado Springs, CO, served as Coordinator for the Desert Mountain Conference Women In Ministry, Rocky Mountain District, and 5th Episcopal District Women In Ministry Executive Board as Secretary, Worship Leader and now as mentor/consultant for Chaplaincy. She is a Board Certified Chaplain in the Association of Professional Chaplains (APC) retired; served as Adjutant Faculty at Fuller Theological Seminary Colorado; founder and staff Chaplain of a Hospice Church that met 12 years every Sunday for worship; retired hospice and palliative care Chaplain, 15 years.
Preacher, Teacher, Mom, Nana, Published Author of many articles, and four books: He Calls Me By The Thunder Meditations on Freedom endorsed by Vinton Randolph Anderson 92nd Bishop of the African Methodist Episcopal Church, (deceased); Everyday Soaring Since My Emancipation Meditations on Inspirational Living, endorsed by John Richard Bryant 106th Bishop of the African Methodist Episcopal Church (retired). She also served as Bishop John Bryant's marshal for two years in the Desert Mountain Annual Conference. Rev. Lonzie has written lessons for the AMEC Church School, Adult Class and co-authored other writings in the AMEC Review and is currently working on a new book release. A praying woman, she was happily married for forty-nine years to Brother Norman. Norman served as the Pastor's Steward and received the Man of the Year award in the Rocky Mountain District, Desert Mountain Conference before his home going in 2018.
Board Certified Chaplain Association of Professional Chaplains
More: LMSPublishers.com            
e-mail: [email protected]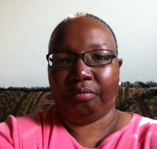 Rev. Margaret Dolores Graham

Rev. Graham was born to the late Rev. Andrew E. Dawkins, Sr of Birmingham, AL, and the late Barbara Gene Blake Dawkins of Selma, AL in Ann Arbor, MI.  She spent her childhood between Selma and Montgomery, AL. She graduated from George Washington Carver High School in Montgomery, AL. She attended the University of Alabama for two years and, in 1987, joined the United States Army. She was stationed at Ft Jackson, SC; Ft Lewis, WA; and Giebelstadt, Germany where she served in Desert Storm/Desert Shield. Her last duty station was Ft Carson where she was honorably discharged in 1993. She returned to school and completed her Bachelor of Science degree in Electrical Engineering. She has done some graduate work at the Naval Postgraduate School in Monterey, CA and she is presently working on her Master's degree in Systems Engineering at the University of Colorado in Colorado Springs. She currently works for the United States Air Force as Senior Sustainment Engineer, where she has attained several civilian awards.
Rev. Graham gave her life to Christ on Christmas Day 1977 at Greater St. Paul AME Church, Montgomery, AL where she served in multiple capacities as a youth. When she was stationed at Ft Carson, she joined Payne Chapel AME Church where she served as a choir member and Sunday School teacher. Rev. Graham received her call to preach at an early age but after "running from the call" for several years, finally answered the call in 1997. She was ordained Itinerant Deacon in 1999 and Itinerant Elder in 2001. She is presently serving at Payne Chapel AME Church under the leadership of the Rev. Leslie R. White. Rev. Graham is married to Ralph Martin Graham US Army, Retired. They have been married for 28 years and have raised two daughters, Barbara Michele (Graham) Rowell, and Aletha Karyn Graham.